EA Developer Express for MT4

EA Developer Express gives you an opportunity to create your own trading program (EA) by defining the condition for each action. For example, you can make an EA taking a long position when the current price breaks the highest price in the latest 10 bars in less than one minute. To make it a little more reliable, you can easily add a filter to limit entries to only when the current price is higher than the moving average.

EAs made with Demo Version can hold only long (buying) positions. Full version is fully functional with both long and short (selling) positions.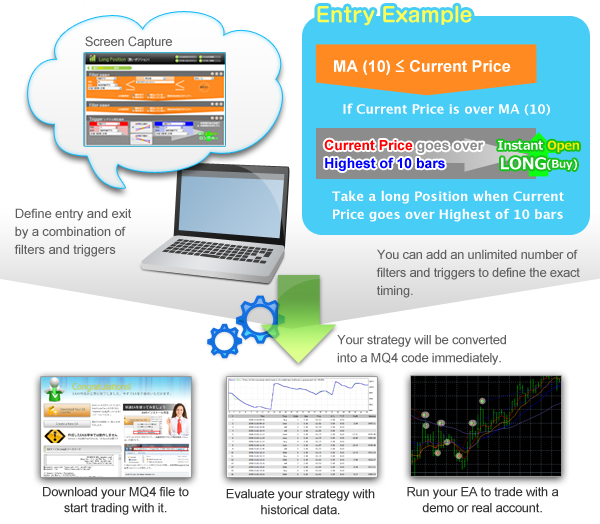 Moving Average (SMA, EMA)
Price Divergence% from MA
ADX
Bollinger Band
CCI
Parabolic SAR
High, Low of a specified period
RSI
MACD
EA Developer Express lets you pick from over 10 different indicators to specify the exact moment you want to open a new position or close one. Of course, the parameters for each indicator are fully modifiable on the screen. Try out your strategy with Simple/Exponential Moving Average of the latest 14 bars, RSI of the latest 12 bars, MACD of the latest 8 hours, and more.
We are continuously introducing new indicators to EA Developer Express. If you are interested in any particular indicator, just ask us.

Minimize your risks
The common functions our EAs have help you guard your position to minimize your risks when you trade. TrailingStop function continuously lifts up/down StopLoss level when the price is updated, to the new level TrailingStop pips above/below the price. Break Even function is triggered when the unrealized profit of a position reaches BreakEven pips. When triggered, it lifts up/down StopLoss level to the open price of the position, or the price BreakEvenMargin pips above/below it.
Update your EA even after your subscription ends
The common framework our EA uses can be downloaded from our download center for free. No subscription is necessary. It is recommended to keep it updated so you can benefit from more stable trades.

Automatic Position Tracking
Don't like watching your position after opening one? You can always have your EA do that task on behalf of you. Close your position when the moving average lines crosses each other, or when current price touches bollinger bands. You can also use Trailing Stop and Break Even. So sit back and relax after opening a position.

Premier subscription to our website lets you use EA Developer Express for anytime. You can also use it for free by opening a new account with our affiliated brokers. Unlike asking to a human developer, there is no wait till you get the exact EA you want.

Product Details
Read our Frequently Asked Questions when you have an inquiry.
Platform
MetaTrader 4
Delivery
Immediate
Price
A subscription to our premier account is necessary. (details)
Registration: USD10.00
1 month (recurring): USD29.99
6 months: USD159.99 (USD26.66 /mo.)
12 months: USD269.99 (USD22.50 /mo.)
Payment
Credit Card (PayPal)
Inquiry
Send an e-mail from our contact form. We do not take phone calls.