FOREX Trading with Zulutrade
ZuluTrade is a service that provides automated FOREX trading environment without making a strategy by yourself.
At times, it is too confusing and time-consuming to create your EA yourself, because it requires some knowledge on computer programming. You may found it too difficult to make the program after reading the tutorial.
That's why ZuluTrade is sometimes the best solution.
With ZuluTrade, you can have an access to a variety of trading systems developed worldwide for free.
Yes you read right, it is provided for free. No hidden commision, of course.
ZuluTradeというサービスは、FXDDなどのMetaTrader対応証券会社に預けた資金を、自分の好みのシグナルによって運営してくれるというものです。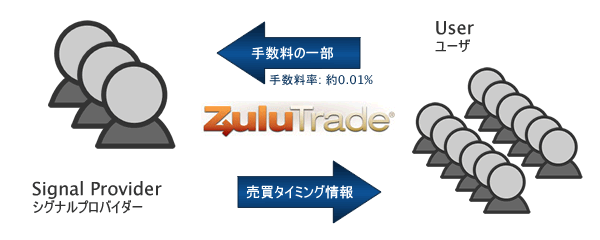 通常発生するスプレッドやコミッションの一部がトレードシステム作成者にバックされるため、世界中から優秀なトレードシステムが集まってくるというわけです。トレードシステムの提供者は、シグナルプロバイダー(Signal Provider)と呼ばれています。
MetaTraderでFX自動売買研究所では、ZuluTradeの使い方や、シグナルプロバイダーを選ぶときのポイントなどを紹介しています。