1. Activating Expert Advisor (EA)
In order to utilize the Expert Advisor (EA) in actual transactions, it needs to be activated in MetaTrader. When EA is activated, MetaTrader will automatically start taking/closing positions, both long and short, using the funds available in the account.
For those that used EA developer agent, please refer to the exclusive webpage that explains how to use EA after its delivery (Japanese).
1. Install EA File in MetaTrader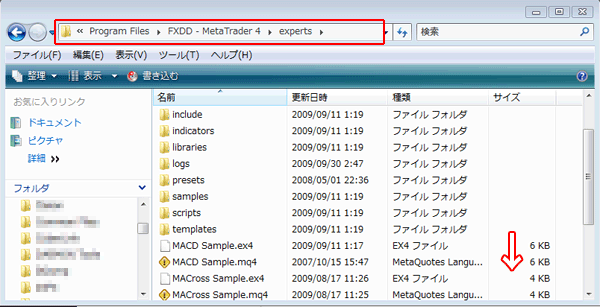 Open the file that MetaTrader installs as you would open any other files. If MetaTrader was downloaded from FXDD, MetaTrader is installed under "C:\Program Files\FXDD - MetaTrader 4" by default. Open "Local Drive (C:)" under My Computer, and look for MetaTrader folder inside "Program Files".
After opening MetaTrader folder, open and add two files in the "experts" folder. Make sure the two files don't end up inside various folders that already exists in "experts" folder.
For those using MetaEditor that has already been installed, disregard the procedures above. EA will be automatically installed by compiling the codes.
2. Verify EA within MetaTrader
Once the installation procedures are over, open MetaTrader as usual (restart MetaTrader if the program was already open).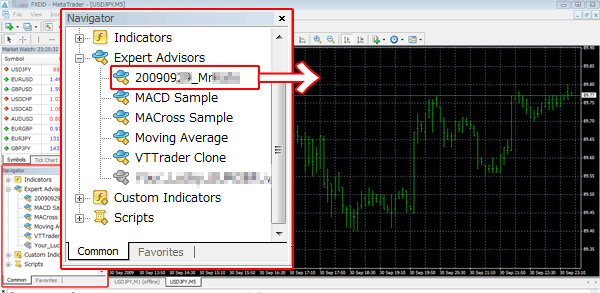 Upon opening the "Expert Advisor" inside Navigator box at the bottom left corner, there should be several new EAs with the same name as the files that was manually added.
(For custom indicators, open the file of the same name.)
If an MQ4 file is not recognized, its icon will be colored grey like the icon at the bottom on the above screen. However, such a file does not affect the trading itself.
3. Starting the Automated FX Trade Using EA
To actually initiate the automated trade, drag and drop EA onto the charts to work with, as shown in red arrow in the above image.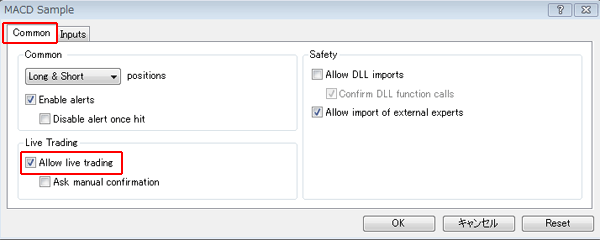 A window like the above should open. Check the "Allow live trading" box, and open the Inputs tab.

Inputs tab allows the user to set the parameters for EA. Before starting the trade, be sure to double-check that the parameters are what you set them to be. Then click OK.
4. Checking the Operation
Finally, click the Expert Advisors activation button at the top of the screen if it is in red.

The icon will look like below when EA is activated:

Verify that all settings are complete and that the automated trading is taking place by confirming that a marker is shown at the top right corner of the screen, like the one below.

(Actual display will show the name of EA instead of "MACD Sample".)